10th September 2011


A chance to buy unique art and crafts directly from the artist in the relaxed atmosphere of The Out of the Blue Drill Hall, 36 Dalmeny Street, Edinburgh, EH6 8RG on Saturday 10th September from 11am to 5pm. Over 45 artists and makers will be selling their work which ranges from painting and photography through fashion and textiles to furniture and design.

The Drill Hall Arts Cafe will be serving delicious snacks, meals and refreshments. Plus quality tunes from DJ Tall Paul!

Find the event on Facebook and twitter.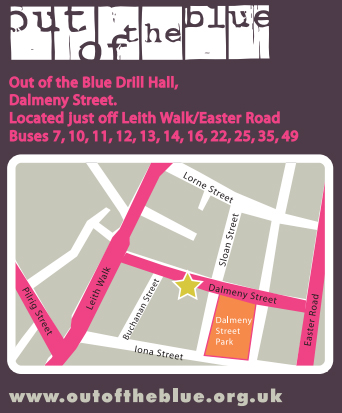 Check out some of the wonderful artists and makers below:


Lynsey Walters - Handmade felt jewellery>
Kirsty Palmer - Blockart - Art for babies and children.
Katie - Missbingaling - Handmade beautiful things, made with love and care
Jane Alexander - Unique handcrafted enamel, rich in colour
Samantha Gardner - Handmade paper and cork designs
Michelle Troup - Auldhill Soap Company - Organic Scottish Soaps and gifts
Heather Potten - Creative wearable felt designs
Seventeennineteen - Children's games inspired jewellery and accessories
Burnside designs - Recycled home-wares and gifts
Arielle Schnepp - ElfWitch Designs - Handmade Gothic and Alternative Jewellery
Esther Kenyon - reunion boutique - Customised / upcycled clothing and accessories
Sally Lucas - LifeCovers - Harris Tweed bags and cushions
Liz Page - Artonthewall - Hand Painted Canvas Wall Art
Nicky Orr - Frugal Cool - Remade and vintage home design
Jane Phillips - Hand-made cards and gift boxes Mixed media images
Lily-Mo - Bracelets with sterling silver charms
Rebecca Munro - Becky Roche Textile Design - Handmade textiles for the home
Edinburgh LoFi Group - Film photography - prints, books, accessories
Nicky Graham - Artimmortal - Original & Unique Art
Natural Accessories - Beautiful Eco-Friendly jewellery and bags
Lynn - Cherryblossom Jewellery - Cool, kitschy, 50's inspired jewellery
Carol Ann Makin - Cabbie Kids - Fun slogan clothing
Rebecca Dover - Bold Scottish mountain and seascapes
Artceptional - Photography of Scotland
Susan Elliott - SparkleSmith - Sparkling jewellery & fabric treats
Jacqueline Norris - I spy with my little Eye - Handmade jewellery from unique items
Gill Howard - Yho! Yho! - Colourful children's products from Africa
Isla Robertson - Neris Jewels - Unique semi-precious necklaces