July 4th to July 29th 2016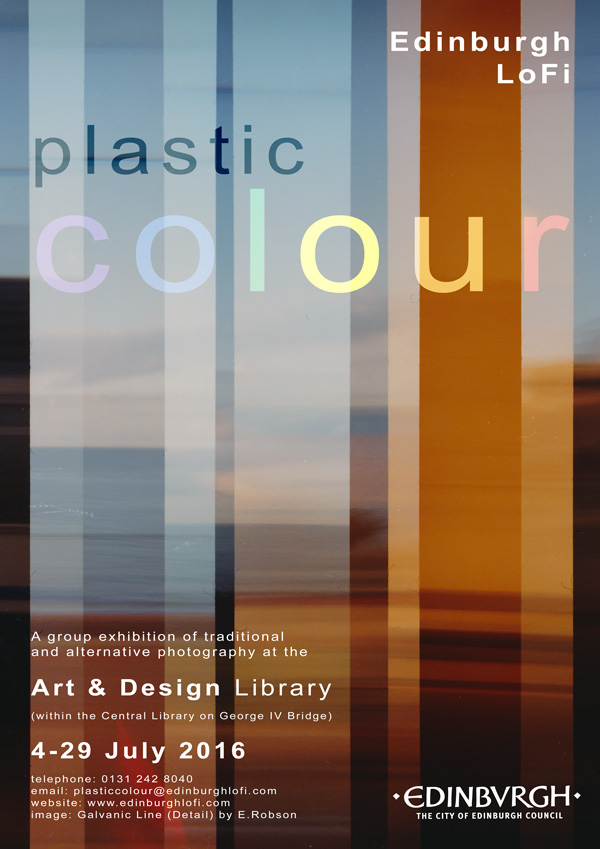 Plastic (Lens) Colour (Film)
Edinburgh LoFi's new exhibition Plastic Colour returns the group to the techniques and technology which inspired their inception. Taking the most basic photographic equipment - a lightproof box and some colour sensitive film - the members have applied imagination and experience to produce a range of exciting new works which push the medium, molding and modelling light.
The Edinburgh LoFi group was started seven years ago at the Beyond Words photography bookshop to promote and explore film photography at its most amazing. The group is now run collectively.
The group meets once a month to share their - traditional, alternative and film - photography experiences, run events, hold workshops and plan exhibitions. New members are welcome and meetings are free to attend.
The exhibition at the Art and Design Library contains work by: Dan Clipsom, Olive Dean, Brittonie Fletcher, Mary Gordon, Ali Millar, Elaine Robson, Judith Rowan, John Sumpter, Graeme Pow, and Leigh Young.
Download the catalogue - Print Version PDF 29Mb.
List of works - Print Version PDF 0.7Mb.
Please email plasticcolour@edinburghlofi.com if you have any queries.